School motto is an abstraction and identification of our university's cultural tradition, essence and spirit. Our school motto encompasses the operational ideology, spirit and style of the learning institution, showcasing the uniqueness along with the shared code of conduct and values by the faculty and the students.
Intensive study implies concentration and diligence. In Book of The Eastern Han Dynasty : A Biography of Fen Qin, Feng Qin was praised for being "diligent" in raising military provisions and as a result was promoted. Hanyu, a sage in Tang Dynasty said in his work entitled On How to Make Academic and Moral Progress that industry led to a successful career while slackers could only suffer failure. Extensive study means studying from an extensive range of sources with a broad mind and vision. According to The Book of Rites, one must "study extensively, examine carefully, think deliberately, judge wisely and act sincerely to achieve true refinement". Effective application conveys the message that one must learn for the purpose of application, not just acquisition of knowledge. Confucius (551 B.C.-479 B.C.) repeatedly emphasized the importance of regular review and practice in study in The Analects of Confucius. Wang Yangming (1472-1529), a great thinker of the Ming Dynasty put forth "the unity of knowing and doing" to provide a real insight into the truth of things. Gu Yanwu (1613-1682) came up with the ideology of "putting knowledge to use in the real world", emphasizing that one studied not only to acquire knowledge but also to solve the worldly problems, preaching the concept of leaning coupled with application.
The concept of "extensive, intensive and industrious study" stresses the attitude and principles of how to conduct learning and conduct oneself while implying the extent, method and range of study. Firstly, all the teachers and students of Dalian Neusoft University of Information (DNUI) must foster the spirit of exploration, investigation and dedication. Only by being disciplined, concentrating and always pursuing progress can he stay away from the tendency to pursue materialistic gains. Secondly, they are expected to bear in mind that industry or diligence must be fully demonstrated in researching and teaching on the part of teachers and inquiring, practicing and personal development on the part of students. Industry implies defying hardships and striving for excellence with solid, persistent and efforts. Thirdly, our teachers and students are encouraged to learn about an extensive variety of fields while keeping up with their curiosity and enthusiasm for the unknown. Not only should they study professional knowledge but other fields of interest as well in order to promote civility , refine their ethics and build up their knowledge, competencies and qualities. In order to achieve the above mentioned aims a climate of inclusiveness with a broad mind and vision is also fostered.
We also emphasize the unity of learning and application to encourage teachers and students to apply what they have acquired to practice. With the pioneering spirit, they are expected to make innovations to materialize values of their knowledge in community after graduation. In that process our education aids in establishing the values of students and they, in turn, realize their own value in society. Thus educational value and purpose of our university are fulfilled. The "innovation" in the concept of effective application involves three implications-updating, creating and changing, which contribute to raising the awareness for the need of innovation and competency in innovation in order to give all our attention to the leading role of our university in innovation. In a larger sense, we are making our due contributions to the construction of an innovative country. The motto of "effective application" emphasizes the cultivation of their aspirations all the more by requiring students to meld their ambitions with persistent efforts with a down-to-earth spirit. Thus they can fulfill their purposes and serve the community.
The concept of "extensive, intensive and industrious study" preaches an eclectic fashion of learning while that of "effective application" entails the ultimate goal of study-to use in practice. Combined, the whole ideology covers an extensive range with regard to their connotations. Students should not only focus on their specialties but also look into more domains to cultivate well rounded individuals and nurture their morality for a sound character so that they can learn more actively to acquire, nourish, create and serve. In addition to this, the concept applies to a proportionately wide range of people, including both the entire body of the students and all the faculty members of Dalian Neusoft University of Information (DNUI). Furthermore,the school is programmed to both have an eye on the current operations and pioneer the future while maintaining their place on the cutting edge of education. Our school motto stems from twelve years' accumulated experience of DNUI, has its roots in our application-based perspective and is derived from our mission and obligation bestowed on university.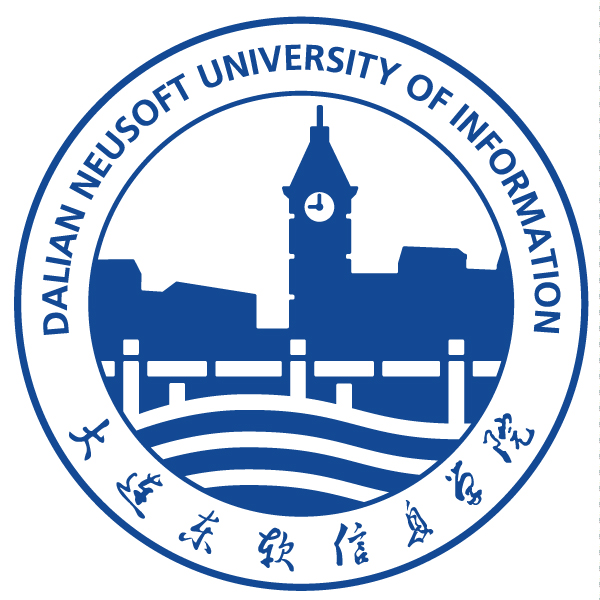 As an indispensable constituent of the identity of an institution of higher learning, an emblem physically manifests the mentality, uniqueness and cultural essence of a university. Through such a symbolic work of art, one can visually perceive the cultural essence and mental profundity of a particular university.
The clock tower is a landmark of DNUI, witnessing the growth of the university and the students, calling on the faculty and the students to inquire and inspiring generations of Neusofters to learn, apply, innovate and contribute. The hands point to nine o'clock, signifying the rising sun in the morning which in turn symbolizes the vigor and passion of our students. Two letters --"IT ( Information Technology )"—are subtly fitted into the bridge of A1 building, strengthening the foundation and distinction of DNUI as an application-based university of IT. The waves beneath stand for the sea, which not only highlight the location of DNUI in the coastal city of Dalian, but also symbolize the immensity, profundity, tolerance, open-mindedness, free thinking and wisdom of the university.

Our school ethos refers to the school's operational climate displayed by the morale of the faculty and students. As the result of education and effective management, a positive school ethos contributes considerably to unify the university and its community in a common cause.
Among its other social roles, a university is an educator and an innovator. In DNUI we encourage diverse innovation with each faculty member and every student working as a contributing individual. They break free of the outdated ideological concepts, master knowledge with fresh learning methods, nurture talented students with new teaching styles, and help promote sustainable and healthy development with state-of-the-art management systems. When it is exemplified in everybody and everywhere in a university, innovation will definitely become a wellspring for a dynamic lasting cause. As an application-based university, we have been applying innovative concepts and educational modes since the foundation of the school. Innovation can help us adapt to the constantly changing circumstances of the times, so it has every reason to be a quintessential trait of all "Neusofters". Only by holding fast to this spirit can we keep turning out talented people with an open and creative mind and maintain lasting vitality, so we can better contribute to the value of our university and serve society.
The concept of integration runs through the whole development of DNUI, which makes our school a role model of the melding of industry and education. The underlying concept of integration is to facilitate the interaction between our university, society and the IT industry. Meanwhile, it is also a process of selecting the essence of thoughts, cultures and individuals on and off campus. By encouraging difference, inclusiveness and comprehensive study, we have broadened our vision and deepened our insight. Therefore, our culture has proved to be more cohesive in bringing together people to work towards one common goal.
Since innovation and integration are an enduring course, the enterprising spirit is indispensable to our practice. We constantly inspire our teachers and students to maintain their uniqueness in moving forward. They are expected to know themselves, challenge themselves, refine themselves and transcend their past with the conviction of "Always Moving into the Future" held by Neusofters.
Our learning ethos is an embodiment of ideologies and ethics on the part of students in their studies. It is also a comprehensive characterization of the academic spirit, attitudes, methods, climate and education environment of a school. This positive morale of study is fostered over time, comprising the motives, attitudes, habits, methods and the corresponding results of study.
"He who learns but does not think is lost; he who thinks but does not learn is in great danger. (The Analects of Confucius)" Young people can not successfully complete their university careers without sincerity and careful thinking. Firstly, "thinking creatively" stresses the initiative of thinking independently and critically. It also emphasizes thorough and at times nontraditional thought before action. Our students are required to make good plans for their lives, seize the day and look into the future with definite goals and a perspective of lifelong learning. Secondly, they are required all the more to develop a positive outlook towards life and the world and foster well-informed values. Only when they correctly understand the relationship between themselves and others in society at large can they develop a clear moral code and define their sense of purpose. Thinking creatively, our students are at the same time advised to double check their purposes for self-examination and self-motivation. They are expected to maintain a straight, positive and healthy state of mind no matter what they are faced with: opportunities, successes, setbacks or even failures.
A university is where personality is cultivated, knowledge is acquired and learning capacity is nourished. Learning capacity is a key to the advancement of society and industry. Primarily, "learning actively" emphasizes the acquisition of study skills. Not only should our students study and research diligently but also turn passive study into a proactive pursuit of knowledge, mastering scientific learning methods. Further, they are expected to extend their study from professional knowledge to humanistic knowledge in an effort to shape their comprehensive competencies including cross-cultural communication. Finally, the concept requires that the students should nurture their morality for a sound character, a positive attitude towards life and the consciousness of obeying laws, freeing themselves of the constant pursuit of gain in the materialistic climate of society.
Knowledge is never truly learned without application. Unapplied knowledge is invalid. Learning entails skillful application, which helps combine what one recalls and experiences with what one learns in books. When knowledge is internalized into one's behaviors and habits through practical use, the values of his thoughts and acquired knowledge are materialized. In this sense, the application of knowledge carries more weight than the "possession" of it. In the first place, our students should learn how to put acquired knowledge to use with new lines of thought and in new fashions. In the second, the concept of "apply skillfully" calls for the students to keep refining the approaches, methods and procedures of their practice, manage their time effectively and integrate resources in a coordinated manner. Lastly, it encourages the students to act out a higher moral code and apply humanistic principles by taking on further responsibilities. Through all the above efforts, the best of DNUI students is brought out.
It is our hope that our students can shoulder their obligations, and fuel their efforts with the concept of "Think creatively,learn actively and apply skillfully" and permit this ethos to motivate their daily actions and pursuits. Only when the goal of nurturing talented application-oriented professionals with international vision and distinctive individuality is achieved are the spirit and cultural essence of our university truly realized.

A teaching ethos is an integrative manifestation of the ideologies, codes of conduct, academic philosophy, teaching methods and quality, research capacity, charisma and work habits of the teaching staff.
It is our belief that in a university, in addition to buildings, there should be devoted teachers, and ambition on the part of students. A teacher is required to have devotion first and foremost, without which education would be impossible. This devotion stems from and is manifested in the enthusiasm of a teacher for his or her students, colleagues, school and the educational cause. It is universal and enduring dedication that features strictness, kindness, tolerance and is far-reaching. As the saying goes, it is affection that touches the heartstrings. So devotion comes as a bridge and a bond between teachers and students. Because of devotion, students are inspired to discipline themselves, study sincerely and make progress. Distilled down, education imbued with devotion is what matters to benefit the whole lifetime of students.
Responsibility constitutes the most fundamental expression of a teacher's work ethics. Our teachers are required to kindle their sense of responsibility and fulfill the expectations of the times and society. Not only should they be well-informed, but also noble-minded as role models. In the spirit of being responsible for both students and their parents, they should be strict with themselves, obeying laws, observing ethical guidelines and dedicated to their careers.
A high-caliber university demands quality faculty with sound and fully developed abilities. We especially stress the refinement of teachers' qualities with the spirit of dedication, enterprise and constant self-improvement. Our teachers must carry out efficient and effective teaching and research to hone their knowledge and skills. More importantly, they must constantly renew knowledge and reshape their range of competencies to keep pace with reform programs of our university as well as scientific advancement and social progress. With the ideology of proactive and lifelong study, they are expected to be both erudite and productive while polishing their teaching, research, practical abilities and humanistic pursuits.
Ours is an age of knowledge-based economy featuring a need for innovation and change. In order to turn out application-oriented people who are innovative and open-minded, we encourage our teachers to generate new ideas and break through the established norms by allowing the concept of innovation to permeate their teaching and research. New approaches and methods such as heuristics, investigative and participatory teaching are explored. Challenging the status quo with independent thinking is valued. Improvement of efficiency through streamlined management is rationally introduced with humanism. Therefore, the education of DNUI has remained vital and thriving.
A work ethos refers to the ideology, work attitudes, learning attitudes and life styles of the management at all levels in carrying out their responsibilities and functions.
We refer to "being realistic" as the concept of departing from facts and moving towards understanding the nature of something by exploring into its inner workings, and relationships. The ideology of "being realistic" requires that the leadership and the administrative staff of our university should respect and rely on the truth to keep pace with the times. Not only should they seek truth from facts instead of clinging to outdated dogma, but also make breakthroughs while emphasizing fairness, justice and transparency. "Being simple and efficient" requires that our staff should streamline procedures to enhance efficiency. At the same time, we strive for a simplified, straight forward and cooperative atmosphere of interpersonal relationships and organizational culture. With the above-mentioned work ethos, we are well-positioned to march forward, united by a common direction.