Taking advantage of the fact that the university was founded by an enterprise and is located in a national software park,DNUI has been pro-active in exploring an industry-university cooperation model, with a goal to cultivate more industrial specialists. Therefore, DNUI is committed to creating a talents-centered industry-university-research.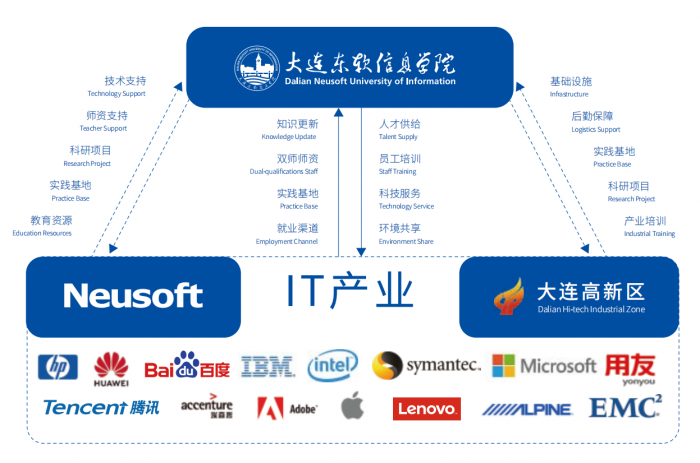 To meet the demands for IT talents from the industry, DNUI has conducted series of research with different stakeholders and established an industry-oriented and profession-centered talent nurturing model. In the process of teaching, emphasis has been placed on training of practical skills. Students are given opportunity to design, practice and implement project ideas, through project-oriented programs, students' practical skills have improved gradually. DNUI has also been working closely with industry enterprises to jointly design curriculum, jointly supply teaching staff and jointly complete teaching tasks. As a result, industry partners have been truly involved in the process of nurturing talents.
Unique 1321 Model on Academic Terms
1321 Model refers to the arrangement of academic terms at DNUI campus. 1 academic year consists of 3 terms, with 2 terms focusing on theoretical teaching featured by project instructions and 1 term on practical training. Theoretical teaching involves intensive teaching and extensive exercises while practical training refers industry-oriented and progressive practical instructions. In addition, all undergraduate programs adopt a "3+1" model. That is, in the last academic year, the students can get one-year work experience through working on comprehensive projects or through internships at real workplaces.
Sharing Education Resources with Enterprises
Close relationships have been established between DNUI and renowned IT companies, including Baidu, Tencent, Lenovo, Neusoft, Intel, IBM, SAP, HP, CISCO, Microsoft, Genpact and Accenture. DNUI is the 9th Chinese institute working with SAP on "Seed Program of Global Universities" and one of the leading global universities of applying the Intel Centrino mobile technology to a large scale. It is only Chinese private university in all universities of Seed Program. It has been the member of regionalization of Dalian High-tech Industrial Zone. Joint teaching administration systems, curriculum systems, academic textbooks, courseware, and projects for practical training are developed by both our university and partner enterprises who also joined force in setting up Internship Education Base, Innovative & Entrepreneurial Education Platform, real-life training workshop and real-life projects.