From March 20th to April 3rd, teachers, students, and party members from the School of Computer and Software and the School of Digital Arts and Design of our university went to Liujiacun in Hongqi Street, Ganjingzi District, Dalian. They painted a themed mural that highlighted the unique characteristics of the rural area, beautifying the village with their professional skills. The mural also attracted tourists to stop and appreciate the artwork, which helped promote rural tourism development.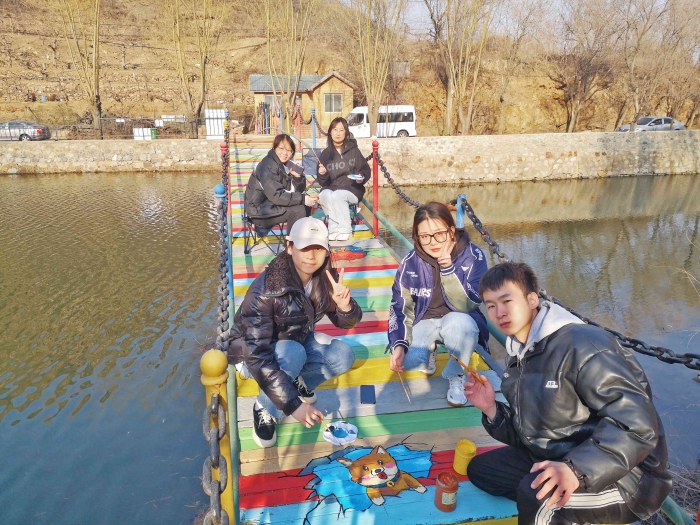 Beforehand, the two colleges conducted on-site investigations and measurements, and organized professional teachers and students to engage in communication and discussion, resulting in the formation of a mural planning, theme, and construction plan. The design revolved around themes such as "unity", "achievement", and "revitalization".
Many themed murals have been painted along the village roads in Liujiacun, which had become a scenic spot where tourists and villagers stopped to admire.
Li Ruobing participated in the planning and on-site painting, and she said, "This grassroots practice has been very rewarding, and its significance is extraordinary. We can not only use our professional skills but also contribute to the beauty of the countryside, truly putting our learning into practice! We, as students of DFE, have both dreams and down-to-earth attitudes. We hope to be rooted ourselves in Dalian through hard work and serve Dalian through our efforts."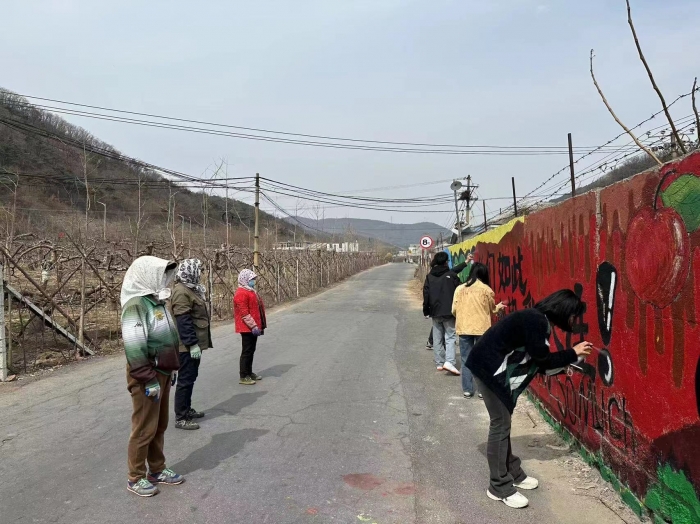 Li Zhihui mentioned the original intention of the design, saying, "The theme of 'unity' reflects the concept of school-village joint construction, jointly creating a livable and beautiful rural area, and building a bridge for rural revitalization.
Wu Yitong said, "It's so fulfilling! This practice allowed me to experience rural life, and it was very memorable. Even after I graduate, I will often come back to the village to see our work."
The teachers and party members of the School of Computer and Software and the School of Digital Arts and Design of our university provided strong support for this practice, including guidance on design plans, material plans, construction plans, and on-site painting assistance. The teachers and students worked together to actively explore new ways of rural revitalization and helped Liujiacun create a new business card for rural tourism.